How to
BOOST

your Cellular with the
International

MobilityPass eSIM & SIM Card

Services in


UZBEKISTAN




Select your current location or destination to check local rates
MobilityPass SIM Card & eSIM provide International network access in Uzbekistan to the best top tier mobile network carriers

Mobile network authorisation you get in Uzbekistan with the eSIM and SIM card from Mobilitypass
When connecting locally with the MobilityPass SIM card and eSIM in Uzbekistan you are subscribed and can choose to connect as your local mobile carrier with:
We offer multiple prepaid plan from "Pay as you go" to various discounted DayPass plans available on the flight, from Data, Voice to text
With your MobilityPass single account you are not limited to Uzbekistan or Asia your reach is global, visit for full coverage.
Whether you connect your Cellular , SmartWatch or Tablet for critical business or relaxing time with relatives, you are the one who chooses your favorite network based on speed, coverage, reliability, quality, price or even time of the day at the location.
SIM card & eSIM available in
Uzbekistan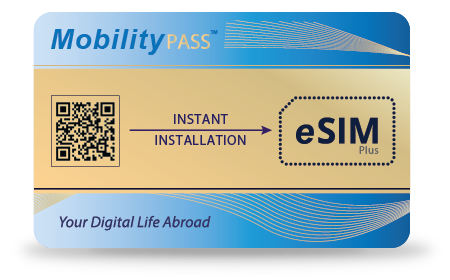 Placing order is easy
All you need to do is to Select Credit Amount (with additional bonuses available).
The more Credit you Purchase the more Bonus you get (up to 20% more credit)
You get 100% discount for Digital Delivery (available for a limited time, hurry!)
You get Free eSIM for credit orders above 199{{getCurrency()}}, 20{{getCurrency()}} discount for credit orders above 149{{getCurrency()}} and 10{{getCurrency()}} for credit orders above 99{{getCurrency()}}
In any location you can use your eSIM for data as Pay as You Go and pay per each Mb used or activate discounted DayPass data plan for 100Mb, 400Mb or 1000Mb per day for fixed price
What do you Get

International eSIM Advantages
International eSIM Features
eSIM Plus (Digital SIM profile)
Data, Call & Text
GSM, 2G, 3G, 4G LTE
Tethering Allowed
Mobile Line/number +44 UK
eSIM works anywhere, check rates for each location
Voice Mail, Caller ID, Forward
Easy 2 step order
MobilityPass International SIM card
more info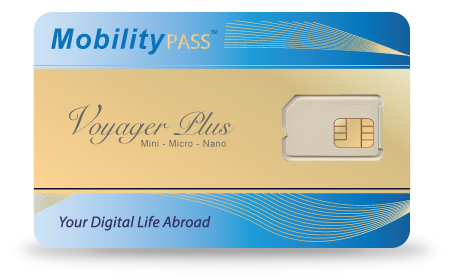 To place your order
Select prepaid credit in {{getCurrency()}}

---
Get Free Sim card for orders above 75 {{getCurrency()}} (Normally 10 {{getCurrency()}})
Get Free Expedited Delivery for orders above 100 {{getCurrency()}} (Normally 28 {{getCurrency()}})
Get up to 20% Credit bonus on orders above 100 {{getCurrency()}}
What do you Get

International SIM Card Advantages
International SIM Card Features
Multisize SIM (Mini, Micro & nano)
Data, Call & Text
GSM, 2G, 3G, 4G LTE
Tethering Allowed
Mobile number +44 UK
Work in more than 150 countries check rates for each location
Voice Mail, Caller ID, Forward
PAY AS YOU GO


Uzbekistan
Select other country above to view corresponding rates
Data charges are debited from your prepaid credit as you go
Countries

Mobile Carrier

{{getCurrency()}}/1MB

Countries are listed Alphabetically and network from lower to higher price per MB
DAYPASS DATA PLAN


Uzbekistan
Select other country above to view corresponding rates
Data charges are debited from your prepaid credit as you go

DayPass




100 MB

On demand


{{getCurrency()}}

DayPass




400 MB

On demand


{{getCurrency()}}

DayPass




1000 MB

On demand


{{getCurrency()}}
Notes: eSIM or eUICC (Embedded Universal Integrated Circuit Card) the next evolution of the SIM card, it offers users the ability to change service provider over-the-air (OTA), without needing to physically change the embedded SIM card itself. eUICC represents the most radical change in over two decades of GSM connectivity
CALLING / VOICE SERVICES RATES
MobilityPass eSIM Call rates from Uzbekistan
Select other country above to view corresponding rates
Call charges are debited from your prepaid credit as you go

Uzbekistan
Zone

Zone 1
0.18
{{getCurrency()}}/min

Zone 2
0.54
{{getCurrency()}}/min

Zone 3
0.72
{{getCurrency()}}/min
| | | |
| --- | --- | --- |
| | Incoming calls | 0.18 {{getCurrency()}} |
TEXT/SMS SERVICES RATES
MobilityPass eSIM Text rates from Uzbekistan
Select other country above to view corresponding rates
Text charges are debited from your prepaid credit as you go

Uzbekistan
Zone

Zone 1
0.18
{{getCurrency()}}/text

Zone 2
0.54
{{getCurrency()}}/text

Zone 3
0.72
{{getCurrency()}}/text
| | | |
| --- | --- | --- |
| | Incoming Text - SMS | FREE |
The MobilityPass eSIM is not limited to Uzbekistan and will work all around the world
With your MobilityPass eSIM account you are no more tied to one single carrier around the World or through there alliance, you are totally independant to choose any one at any time from any countries where it´s available