Who are we? ...
Global communication is our business and we spent the last nineteen years to suit the needs and requirements of our customers.
During the last 30 Years our founding team has got various patents and first prizes in Europe, the US and Far East for their research and work on the data exchange interfaces for mobile devices, secure communication, as well as for identity and payment control.
Our infrastructure is located in 3 continents, North America, Europe and Asia, and is built to serve the needs of our customers in different time zones.
Today the International Voice and Data solutions from Mobilitypass are a simple, reliable and cost-effective way to use your mobile devices abroad without changing your habits. Incoming calls abroad are without roaming charges and the cost of international calls and internet data are almost at local prices.
"MobilityPass" and "Global Roaming" are the trading names of Sharprock Technologies.
MobilityPass International Roaming Internet & Communications services:
MobilityPass team has more than 40 years of experience in secured telecommunications. Since 1977, our team has been granted patents in Europe, the United States and the Far East for its work on data exchange interfaces for mobile devices, secure communication, payment and ID verification.
Our constant endeavor bore fruit with the creation and launch of the MobilityPass secure global roaming internet access - ensuring a secure global internet access for
telco, business organizations, governments and the self employed
, as they use new technologies and communications tools abroad.
Since inception in year 2000 we have served more than 100,000 worldwide businesses and personal customers. The MobilityPass SIM Cards have been designed to assist International Travellers with their communications needs while discovering the World.
MobilityPass offering is the result of our massive experience and generous feedback from thousands of our clients, including students, expatriates, globally mobile employees and businessmen, as well as celebrities, famous athletes, movie stars, racing drivers and writers.
Since 1999 - more than 20 Years experience in secure global roaming internet
For the past 20 years, our international engineering team has been developing a proprietary management and integration suite of key internet business connection services that include Dial up, Toll Free, Wifi Hotspots, 3G/4G mobile broadband and revolutionary eSIM. With over 300,000 users around the world and 100 millions of minutes served, Mobilitypass has provided internet access to Roaming Operators such as Goremote, Gric, Ipass, Otenet and international corporates such as Sony, Thomas Cook, SAFT, IPS Sendero, Nissan, IRI, Tapeware.
Since 2000 we have developed and shared with our customers the continuous technology evolution from the dial-up Internet access at 28Kb through ISDN 128Kb, Wi-Fi hot spots, GPRS up to today 4G mobile and now we work 10 years up-front to continue to serve you even more efficiently… for the future.
Prestigious universities like Calpoly and MIT, as well as celebrities and movers and shakers on the world stage that need confidential, secure and reliable communication services abroad, have also enjoyed our services. For example, we were for 7 years the provider of millions of minutes to AOL through a dedicated TCP clear secure tunnel, from Spain to their clearing house in the States to connect their corporate users while traveling in Spain. 10 years ago MobilityPass has developed an unified
secured and encrypted package
featuring a complete integration of communication tools and services, including international cellular phone cards, sms text messaging, push email, fax, internet phone, voice mail, virtual phone numbers, and VPN tunnel integration.
The revolutionary development launched by MobilityPass in early 2010 was the live billing and encrypted international 3G mobile broadband, that allowed customers to control in real time the exact cost of their mobile internet connection through a secure and private member´s area. This allows to avoid unpleasant cost surprises and billing issues that most operator and company face when offering 3G cellular broadband roaming to mobile workers. This upgrade allows customers to connect with a secure access key to up to a hundred mobile networks around the world such as: Optus, Vodafone, TDC Mobile, KPN, Bouygues, T Mobile, Optimus, Rogers, Hutchinson, AT&T, Orange, Proximus, SFR, etc...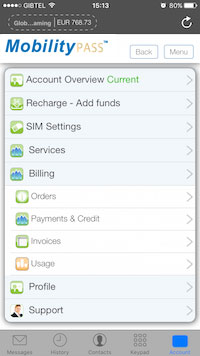 In 2010 MobilityPass launched
Compass
The MobilityPass Compass
international SoftPhone is your encrypted Communication "Swiss-Knife" while abroad: Calls In & Out, SMS Text messaging, Unified Instant Messaging, Fax, Push E-Mail, Storage, Follow me numbers, Wifi Hotspot finder, VPN. SoftPhone: Free PC to PC calls, 100% FREE calls at great quality using your contact list.
In 2012 MobilityPass was one of the first companies in the world to launch
mobile international Wifi (MiFi)
with direct encryption VPN.
The latest development is the early launch of revolutionary
MobilityPass eSIM
, which exploits latest achievement in mobile telecomunnications. Our clients, who own latest devices from major manufacturers (like
Apple iPhone XR
and
iPhone 11
,
Apple Watch Series 4
and 5,
Samsung Galaxy Note 9
, and others), can turn their devices into Dual SIM without the need to physically insert or change SIMs - it all happens on the fly with Digital delivery of the eSIM by MobilityPass through scan of QR code.
MobilityPass´s future focus is on continuing to provide and improve international secured communications for professional corporates, governments and all individuals who want secure and low cost connections around the world. Our corporate philosophy is to strive and differentiate ourselves from the rest of the marketplace, by understanding that our customer is our principal partner and deserve the highest level of service.
We understand that our clients will only continue to use MobilityPass's services if it is the very best available. In this respect, we are committed to providing connections that are based on reliability, privacy and security that is second to none, with of course, reasonable costs.
When you are member :
You can access up to the minute live detailed information in your
member's area
including :
Your usage in detail with the operator you used in the country or countries  you visited
Your invoice history
Your payment receipts
Your account details and settings
Our support team is also available to answer any queries you may have. We provide a 24 hours ticket service and phone assistance in 4 continents during European CET (or GMT +1) office hours
Other useful services by MobilityPass:
140.000 Global roaming wifi hotspot access:
160 Countries Dial up and Toll Free
VOIP, Internet phone, Fax, SMS 
VPN & Secured access services are reserved to corporate and institutions
For general information you can visit our web site: